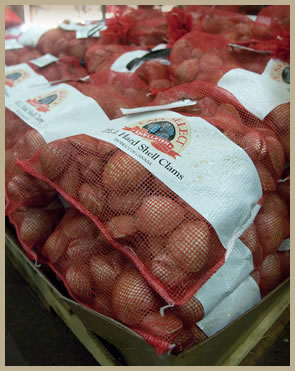 PEI Quahogs
The clam's harder-shelled cousin, the quahog, can be found just below the sand or mud surface between the high and low tidal zone and beyond, in sheltered waters. A quahog with a shell thickness or hinge width of less than 1 inch is seed and below legal harvest size and are not taken. A 1 inch thick to 2 1/2 inch long quahog is known as a Little Neck, a 2 1/2 to 3 inch quahog is a Cherry Stone, and a 3 inch or larger quahog is a Chowder.
The waters of Prince Edward Island offer the perfect
natural setting
to produce great tasting quahogs, as they generate their flavour from ocean water, ocean plant life and silt. Our cold Atlantic waters, native phytoplankton and ideal ocean silt make for the best tasting quahogs. Quahogs today are still harvested in the wild using long clam rakes in shallow water and receive the diligent attention
Prince Edward Aqua Farms
gives to all its shellfish. Each and every quahog at the facility is cleaned and inspected by hand to ensure only the finest are shipped.
Quahogs, like clams, have a variety of
culinary
uses. The Island quahog meat is especially tender and sweet, and is complemented by being packed and shipped in the quahog's rich, natural fluids.They are also known for being easy to prepare in a variety of ways, including delicious New England-style chowder. Little Necks and Top Necks can be served raw on an opened half-shell, while larger quahogs are usually steamed, baked, stuffed or used in soups and chowders. Either grade is also ideal for making succulent red or white clam sauce.