Mussels - A Healthy Choice
PEI Blue Mussels are:
• Rich in protein
• High in fiber
• Low in cholesterol
Read More >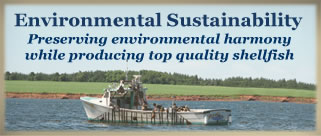 Our Retail Outlet
Prince Edward Aqua Farms is proud to provide world-class shellfish to major markets across North America, as well as to many retailers on Prince Edward Island. Having been part of the Island shellfish community since 1989,
Prince Edward Aqua Farms
has forged strong relationships with many experienced growers over the last 25 years to ensure top-quality shellfish is always available.
Always packed fresh and full of flavour, shellfish is a nutritious and tasty delight,
perfect for a meal or a snack
. Pick some up and try them tonight!
Retail Outlet Hours:
Monday to Friday:
8:00 am - 5:00 pm
Saturdays:
8:00 am - 2:00 pm
For more information on where Prince Edward Aqua Farms Island Gold blue mussels or other shellfish can be purchased, please contact our Sales Office at
sales@peaqua.com
or telephone (902) 886-2220.